MORNSUN debuted the new 1000W AC/DC enclosed power supply LMF1000-20B series in April, bringing the total power range of MORNSUN AC/DC enclosed power supplies to 15-1000W, meeting the needs of a wide range of applications. 
The LMF1000-20B has a tiny footprint (190*127*40.5mm), high power density, variable speed fan control, and the ability to be connected in parallel to boost power, among other features. They comply with IEC/UL/EN62368, GB4943, and IEC/ES/EN60601 standards, making them the safest, most reliable, and cost-effective power converters for industrial control systems, automation machines, measurement and control instruments, medical (medical certification), etc.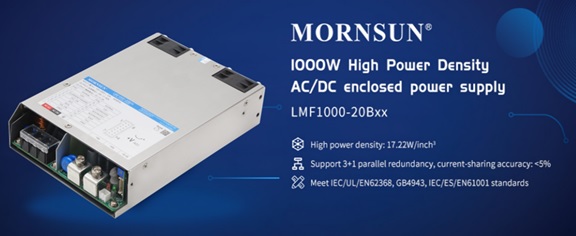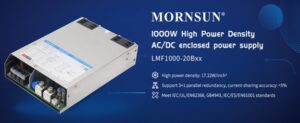 Features of LMF1000-20B series
Input voltage range: 90 – 264VAC/120 – 390VDC
Operating temperature range: -40? to +70?
Variable speed fan control
Remote ON/OFF, digital communication;
Support 3+1 parallel redundancy, current-sharing accuracy: <5%
Meet 5000m altitude application
High power density
Meet EMI CISPR32/EN55032 CLASS B without peripheral components
Meet IEC/UL/EN62368, GB4943, IEC/ES/EN60601 standards
Please see the datasheet for further information.